Kenai River Cabin Rentals
Unguided bank fishing on the best salmon and rainbow river in Alaska from the comfort of one of our deluxe log cabins. 350+ ft. of private shoreline with easy access to public fishing areas. Fully guided fishing packages also available.
Alaska Wilderness Outfitting
We offer both guided and unguided fishing trips to the pristine waters of Prince William Sound, the wild lakes and rivers of the Wrangell Mountains and the untamed wilderness of the North Gulf Coast on the Tsiu River.
Double Haul Fly Fishing
With over a decade of Kenai River Fly Fishing guide experience, we will make sure that your Kenai River guided fishing trip is one your will never forget. All of our guides are certified fly casting instructors and excellent teachers. As Kenai River fly fishing guides we will not only take you out on the water in search of trophy fish, but also teach you the reasons why we are fishing the way we do throughout the day. We want each guest coming away with new methods and knowledge each day. It doesn't matter if you are an experienced angler or a newcomer, comfortable with a fly rod or conventional gear. Double Haul Fly Fishing is the choice as your Kenai River Fly Fishing guide service.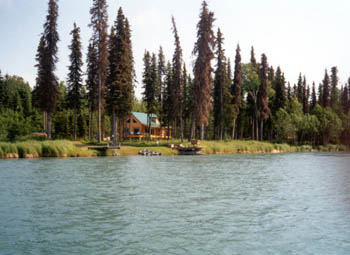 Alaska's Anvik River Lodge
Alaska's most remote full service fishing lodge. 5-night all-inclusive from Anchorage. Private charter flight, comfortable rooms with private bathrooms, all meals & beverages, daily guided freshwater fly and/or spin fishing pacific salmon, pike, char, grayling & whitefish, housekeeping & laundry, wi-fi and more. Celebrating 22 seasons of "True Comfort in True Wilderness" 75 miles up the Anvik River in Western Alaska.
South Kodiak Adventures
Our remote location on the Southern tip of Kodiak Island insures world-class fully guided fishing for salmon and halibut from the comforts of our full service lodge. Deer hunting, sightseeing and photography trips are also available using our 33 foot, high speed and licensed vessel, the "Alaska Adventure".
Afognak Wilderness Lodge
A classy true-wilderness Kodiak log lodge/cabins since 1974. Abundant land/sea wildlife, outstanding fresh/saltwater fishing, superb local cuisine, floatplane access, sauna, kayaks.
Alaska Outdoor Safaris
Trip Planning Specialists - your best choice for selecting Alaska's finest fishing locations, best lodges, cabins, & guides. Professional and personalized service you can trust. Freshwater and saltwater fishing adventures at locations from the Kenai, to Bristol Bay, Western Alaska and Southeast.
Groves Klutina River King Salmon Charters
Grove's is family owned and operated and we've been fishing on the Klutina River for over 30 years.  We have chartered people from more then 20 countries. Over the years our business has grown and the Grove's hospitality hasn't changed; we like to think of our clients as part of the family. Your charter guides will lead you to all the best fishing spots, give you advice on what lure to try and always have a net ready for your big king.